Custom Mom Bobblehead With A Pet
---
---
Description
•Since this is a full body customization,You can upload HD full-body photos, or you can upload HD head photos and your favorite custom photos, custom photos canbe emailing the image to contact@giftofdove.com. A high resolution image will work best. Please include your order number with your email.Whatever you can imagine,we can do it . You are our priority,we will strive to make you happy and provide 100% satisfactory service.
•The production scope doesn't include the big decorations of the image, such as tables, chairs, musical instruments, or animals, etc
•The size is the stature of the person standing from head to toe, isn't the actual height of the person while sitting or lying.
•The Stationary Head can make for any hairstyles,and the Bobble Head hair can only be designed to the shoulder.
•Bobbleheads can be shipped worldwide.
•Lifetime warranty service (Roundtrip Freight Self-Payment).
•We also offer a free online mentoring repair service.
Free Accessories
•Small accessories on the promised product will not charge any extra fees, such as helmets, hats, glasses, sunglasses, base inscription,etc.
Material
•We use polymer clay that meets the highest industry standards, it's a non-toxic, multi-color and environmentally friendly convertible material that make your bobblehead very alive-looking.We do not need paint the custom bobblehead  the colour won't fade away and rub off.We solemnly promise that bobblehead can remain permanent ,Non deformed, Non cracked.Our bobbleheads won't break easily (except for violence).Many other supplier use cheap poly resin to make the bobblehead, and they paint it head-to-toe, which make it very crude. You can find the advantages of our custom bobbleheads by the following details.
Detail
•We sculpt our bobbleheads to look like the photos you provide to us with great detail. All we require is a good front view to capture the look of the person you want to make for.
•Most of our bobbleheads are between 6-9inches. Sizes can vary as all of our pieces are hand made.
•weight is about 150-300g for a single bobblehead and 450-650g for a couple bobbleheads(It all depends on the size and shape of the bobblehead you choose).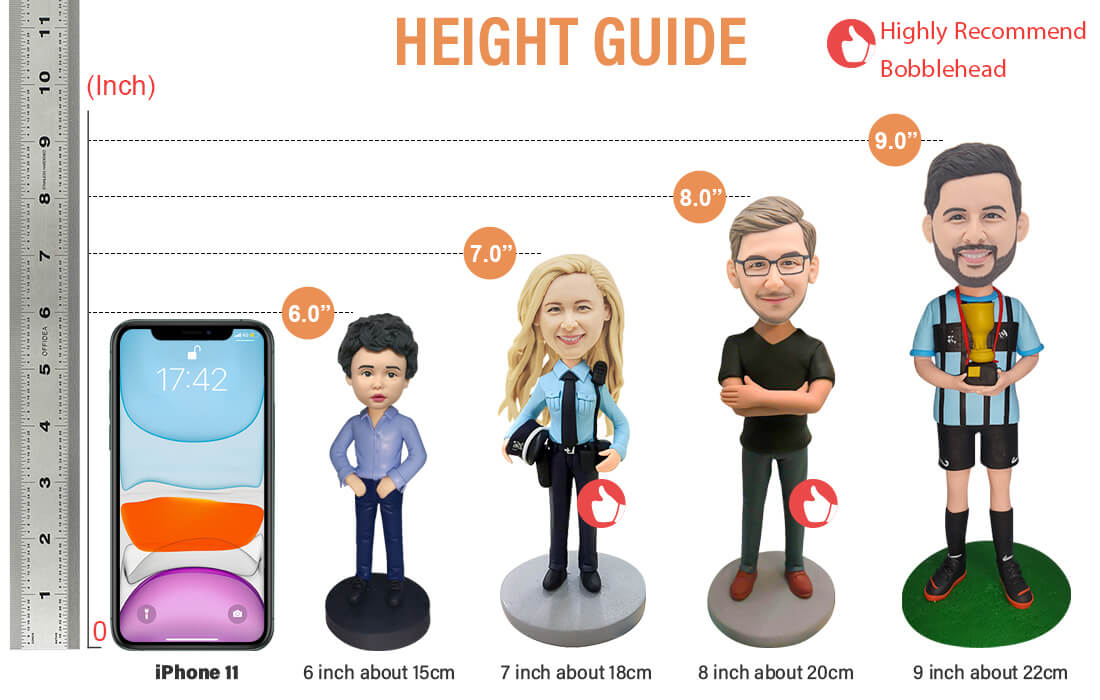 Proofing Service
•We proudly offer FREE approvals in the different stages during the creation of your hand sculpted bobblehead doll. Changes can be made like making the nose wider or lips thinner - this means a great deal when sculpting your doll to ensure satisfaction.During the process, we will send the head proofs  to your email. Each step can be approved or modified, if a change is requested, we will amend the doll and provide a new proof - if it is approved we will bake that step and move towards another proof. Proofing is the utmost important process to ensure the best likeness and highest quality of your custom bobbleheads. So please check the inbox of your email account regularly after purchasing.You will have 100% satisfactory proofing service.After approvals are received, we bake and process your bobbleheads, we can not go backwards.
Package
•Each bobblehead is carefully wrapped by EPE pearl cotton and safely packed in a buckling-restrained carton.Make sure your gift is intact.If you need it, you can choose our well-designed gift box.
 Time Frame
•Normally we are able to have your bobblehead sculpted  within7-10 days(Shipping time is not included), If you want to get it faster,you can specify in Special Request For My Bobblehead,we will try our best to meet all your requirements.
Insanely simple to design your unique gift.Start customizing your bobblehead today!
---
We Also Recommend
---
Customize Bobbleheads By Your Photo